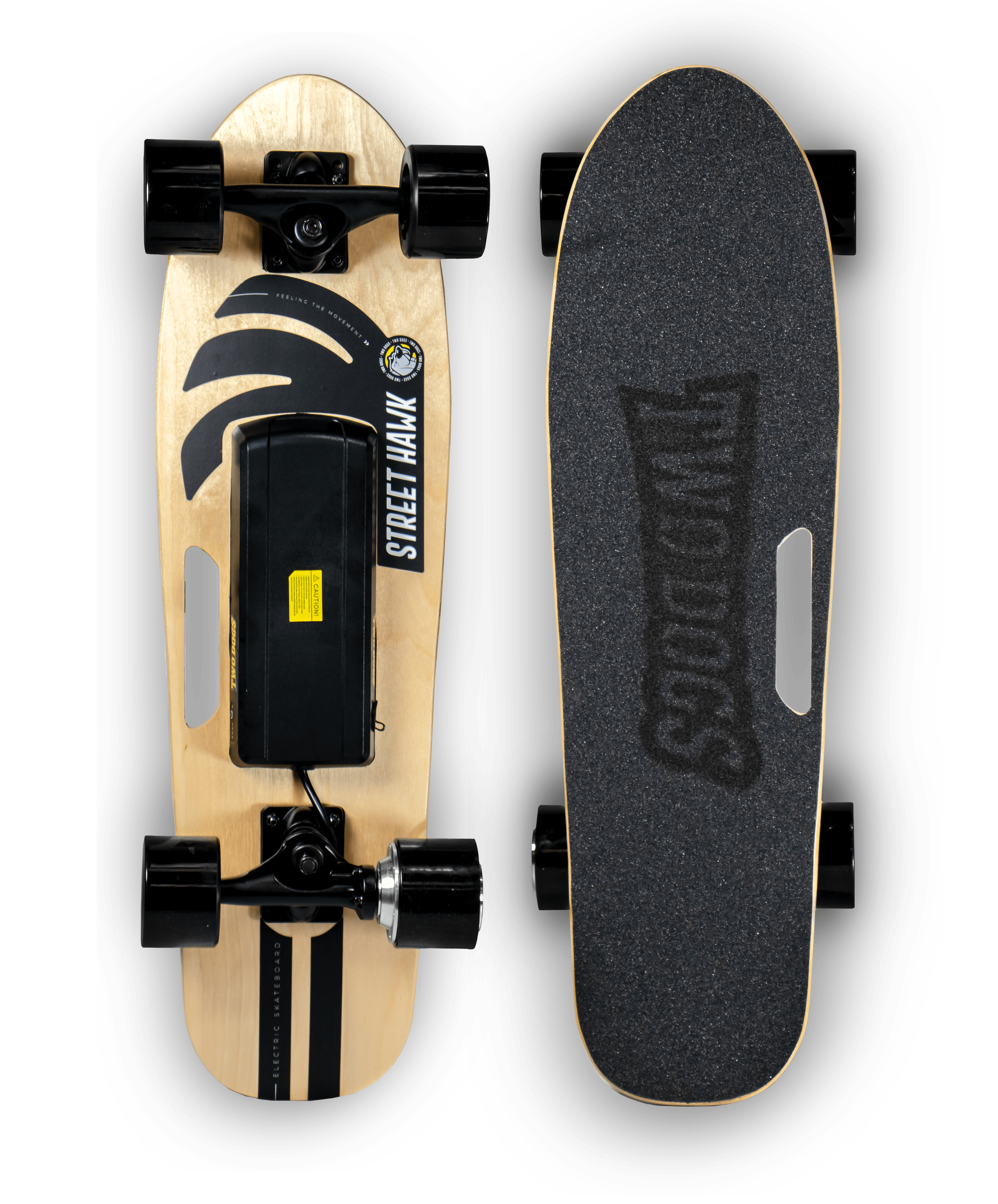 In addition to the quality assurance and support that only Two Dogs has, it is an alternative and complete transport, with wooden shape and anti-slip sandpaper, lithium battery, EBS brake system and a discreet and rechargeable wireless controller.
TECHNICAL INFORMATION
Model: Street Hawk Electric Skateboard
Motor: 500W ? Hub (Internal)
Degree of inclination: 10°
Lithium Battery 24V 2Ah
Charging time: 2-3 hours
Charger: 110v/220v
Water and Dust Protection: IP54 ? Protected against light jets of water and against dust.
Max Speed: 20km/h
Range: Up to 8 km (In ?BEGINNER ? MODE? riding mode and may vary depending on climate, uphill and downhill slopes, driver weight of up to 60 kg and engine acceleration)
Wheel: PU / Size 72 mm
Brakes: EBS system
Shape: 8 layers of wood with non-slip sandpaper
Trucks: Aluminum
Load capacity: 90kg
Remote Control: Digital Wireless with USB rechargeable 3.7V/200mA battery.
Reverse: Yes
Tool Kit: Yes, for fine adjustments
Weight: 3.7kg
Size: 70 x 22 x 14 cm
Two Dogs Warranty: 12 Months Against Manufacturing Defects *Except Battery
Battery Warranty: 3 Months
*Regulation: This vehicle is classified as a sport and recreation vehicle. It waives registration and use of CNH. However, it can only be used on off-road trails, private streets and private property.