Style, functionality and mobility in a single product. Two Dogs' darling foldable with a Plus in terms of comfort, colors and accessories. Choose the one that suits you.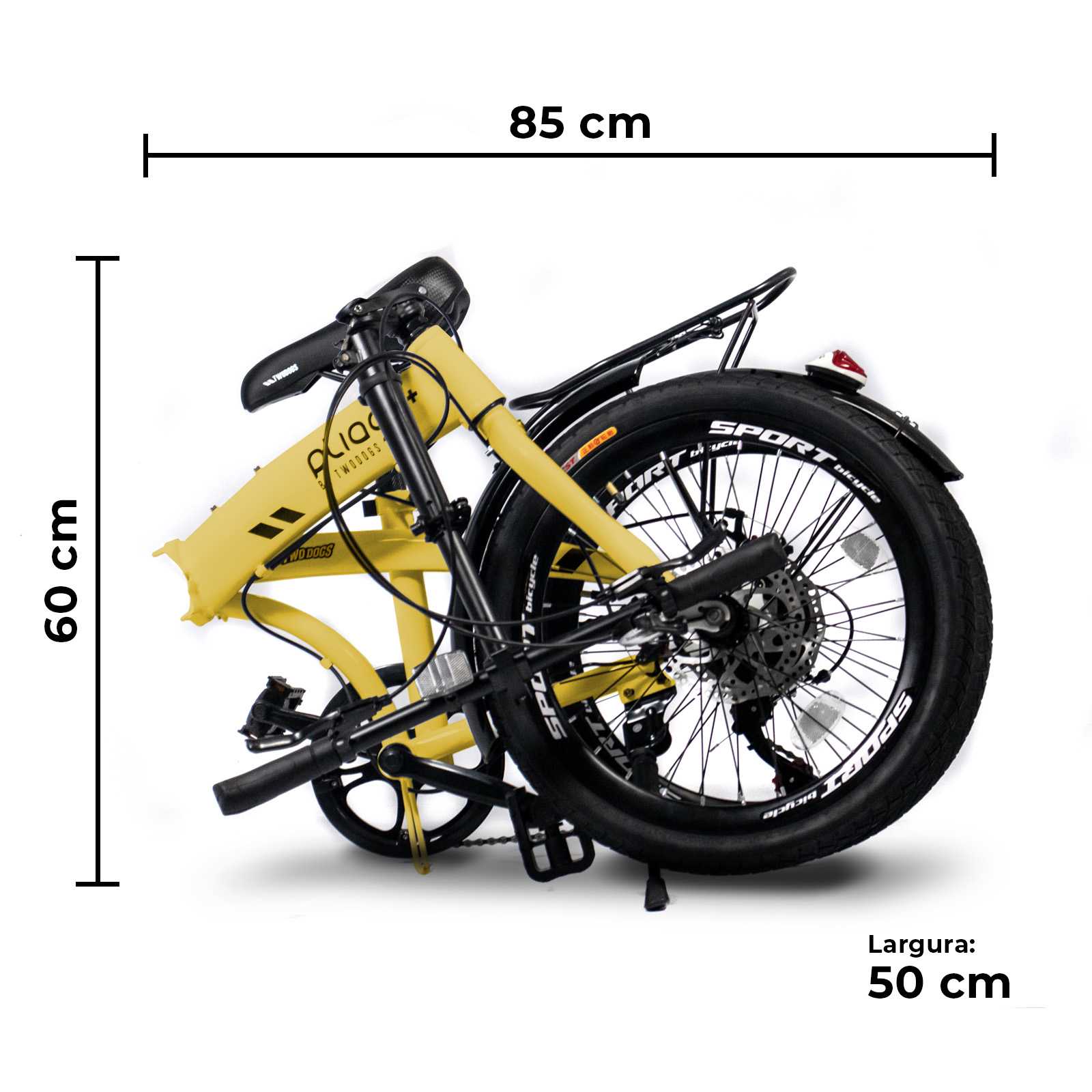 Because it's a folding bike, Pliage fits anywhere, like in the trunk of the car or in the corner of the office, take it wherever you go! although compact, the saddle and handlebars are adaptable, you can adjust them however you like!
Frequently Asked Questions
It is important to carry out annual periodic maintenance, to review the brakes, and adjust the safety locks.
Two Dogs has a partnership with Wosi Seguros, which covers aggravated theft and theft. That way you'll be able to enjoy without worrying about undesirable situations along the way.
You can find the Wosi page within the Two Dogs website in the products tab or by visiting wosi.com.br
TECHNICAL INFORMATION
Frame: With carbon steel folding technology.
Handlebar: 2021: Straight in aluminum alloy. 2022: Carbon steel straight
Steering Box: Oversized, 1 ? pol
Saddle: Comfort foam and synthetic leather
Seatpost: Oversize – 32 mm – black color
Brakes: on disk
Rear/Front Hub: Carbon steel, 28 holes, black.
Rays: black.
Rim: Double plate aero – 20?.
Tires: 20 X 1.75 - CST
Shift Lever: Shimano 7 speed
Rear Shift: Shimano 7 speed
Free wheel: 7 speeds/thread ? 14/28 teeth ? Shimano
Crankset: In carbon steel with chain protection. 2021: Crown with 46 teeth. 2022: Crown with 52 teeth.
Central movement: 2021: 122mm with ball. 2022: 118mm ball bearing
Chain: 2021: 108 links. 2022: 112 links
Pedals: folding
Fender: Steel – black

Size: 2021: length 150 cm x width 55 cm x Height adjustable. 2022: length 152 cm x width 59 cm x Height adjustable.

Folded Size: 2021: length 85 cm x width 55 cm x height 60 cm 2022: length 85 cm x width 50 cm x height 60 cm

Weight:

Approx. 17.5 kg