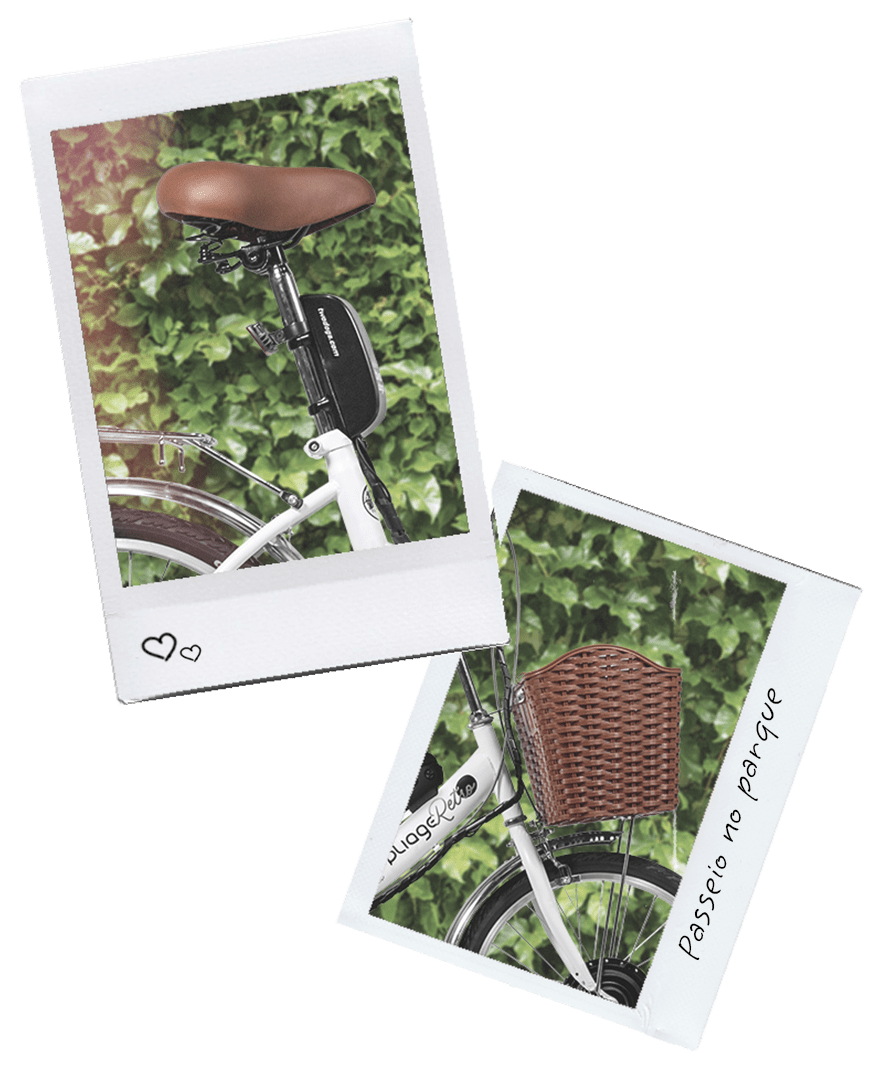 THE Plyage Retro, it has the folding technology of the carbon steel frame, and can be stored in small spaces, and even transported on the bus or uber.
Frequently Asked Questions
Yes, her pedaling is comfortable on flat terrain, as it is a touring bike. Already in places with ascent, for example, requires a little more physical preparation.
In this case, to reduce efforts, it is possible to transform it into an electric one with the Two Dogs Electric Kit.


It is important to carry out annual periodic maintenance, to review the brakes, and adjust the safety locks.
Two Dogs has a partnership with Wosi Seguros, which covers aggravated theft and theft. That way you'll be able to enjoy without worrying about undesirable situations along the way.
You can find the Wosi page within the Two Dogs website in the products tab or by visiting wosi.com.br
TECHNICAL INFORMATION
Model:

Electric Retro Pliage

Motor:

350 W front.

Frame:

With carbon steel folding technology.

Drums:

Tube 36V? 8 Ah Lithium

Maximum speed:

25 to 30 km/h (may vary depending on calibration, wind, ups and downs, driver weight, engine acceleration)

On-board computer:

LCD with Illumination and battery level.

Autonomy:

Up to 30Km using pedal assist in ideal conditions and mild weather. (May vary depending on calibration, wind, ups and downs, driver weight, engine acceleration)

RPM:

Approx. 200 revolutions per minute.

Accelerator:

Optional progressive finger.

Pedal assisted:

Yea

Brake system:

Electronic, horseshoe brake – front, drum brake – rear

Recharge time:

5 to 7 hours

Noise level:

<55db

Loader:

100-240VAC - Automatic

Protection:

IP64 - Slight splashes of water

Handlebar:

Non-folding Galvanized steel

Steering Box:

Stand / 210 mm

Saddle:

Ecological leather in brown color.

Seat:

Galvanized steel – 28.5 mm

Rear Hub:

In ball steel – 28 holes

Rays:

Iron – 195 x 2.0

Hoops:

20? in aluminum - single plate

Tires:

CST - 20 X 1.75

Crank:

Carbon steel with superior chain guard – 44 teeth

Central movement:

122mm rolled

Chain:

92 links

Pedals:

folding

Brake lever:

injected plastic

Battery capacity:

90kg

Weight:

23 kg

Size:

120 x 19.5 x 60 cm

Folded Size:

85 x 65 x 77 cm

Two Dogs Warranty:

12 Months Against Manufacturing Defects* Except battery

Battery Warranty:

3 months
Important: Read the instructions for use before using
Cleaning: Cleaning your Pliage should be carried out regularly, using only clean water and detergent or neutral soap. Never use water jets on wheel hubs and central movement;
Support: In case of doubts, requests for support related to the operation and warranty of the product, contact Two Dogs Support directly through our website or by telephone.
Guarantee: This product is guaranteed against any manufacturing defect for 90 days from the date of purchase, indicated on the invoice. This warranty does not cover any damage or defect caused by misuse.
*Regulamentação: De acordo com a Resolução 996 do Contran, este veículo é classificado como bicicleta elétrica, dispensando o emplacamento e uso de CNH. Ele pode ser utilizado em ciclovias, ciclofaixas e ciclorotas, respeitando a velocidade da faixa. Para andar na rua é preciso seguir as disposições estabelecidas pelo CTB. O produto vai com um acelerador de dedo opcional, que pode caracterizá-lo como autopropelido.