The Bet Electric Bike.Go has arrived in the pack!
Now you can give your car and transport apps a break, to live the experience of seeing the city from another angle!
With capacity for 2 people, the Bet.Go 350W Electric Bike is perfect for picking up your child from school or inviting a friend for a relaxed ride.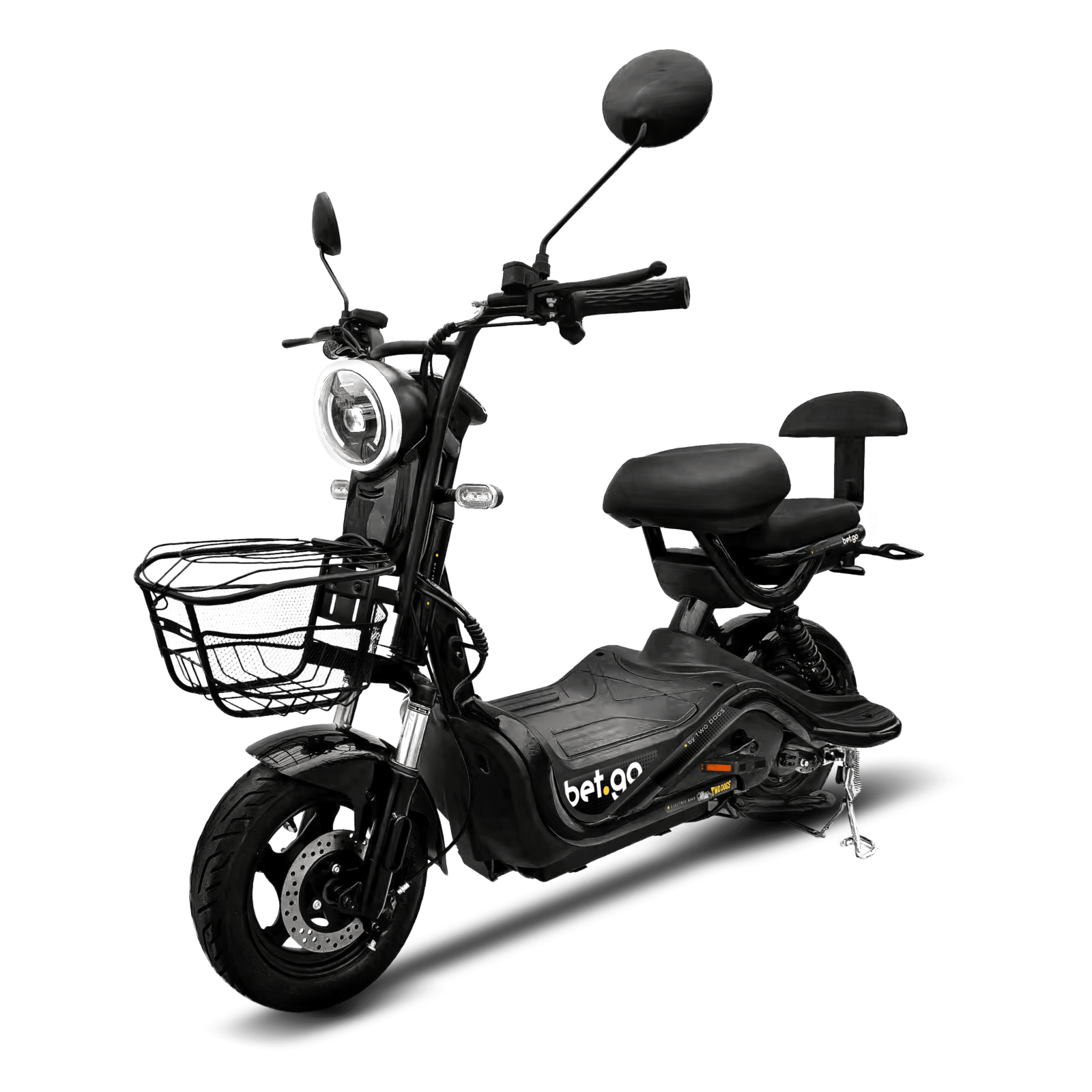 Discover the revolution in urban mobility with the Bet.Go 350W Electric Bike! Save time, money and escape the stress of daily traffic.
Frequently Asked Questions
TECHNICAL INFORMATION
Model: BET GO
Engine Hub: 350W – Brushless
RPM: 300 rpm
Torque: 10-15 NM
Degree of inclination: 35th
Chassis: Iron
Water and Dust Protection: IP62? Protected against splashing water and dust.
Lithium battery: 48V 12Ah
Max Speed: approx. 32 km/h
Bank: Synthetic leather
Tire: 15? – Calibrate the tires between 35 – 54 PSI
front suspension: telescopic
Rear Suspension: double damped
Brakes: Disc and motor cutter
Charging time: 6 – 8 hours
Loader: 110v/220v
Autonomy: Up to 28 km in ideal conditions*
*Ideal conditions: Flat terrain, without vibrations, downwind, with a pilot weighing up to 90 kg, in economy mode and in mild weather.
Battery capacity: 150 kg
Weight: 37.8 kg
Size: 149 cm X 63.5 cm X 101 cm
Two Dogs Warranty: 12 Months Against Manufacturing Defects *Except Battery
Battery Warranty: 3 months
*Regulation:According to Contran Resolution 996, this vehicle is classified as self-propelled and does not require registration and use of a CNH. It can be used on bike paths, bike lanes and roads with a maximum speed of up to 40km/h.