The Bet Electric Bike.Go has arrived in the pack!
Now you can give your car and transport apps a break, to live the experience of seeing the city from another angle!
With capacity for 2 people, the Bet.Go 1000W Electric Bike is perfect for picking up your child from school or inviting a friend for a relaxed ride.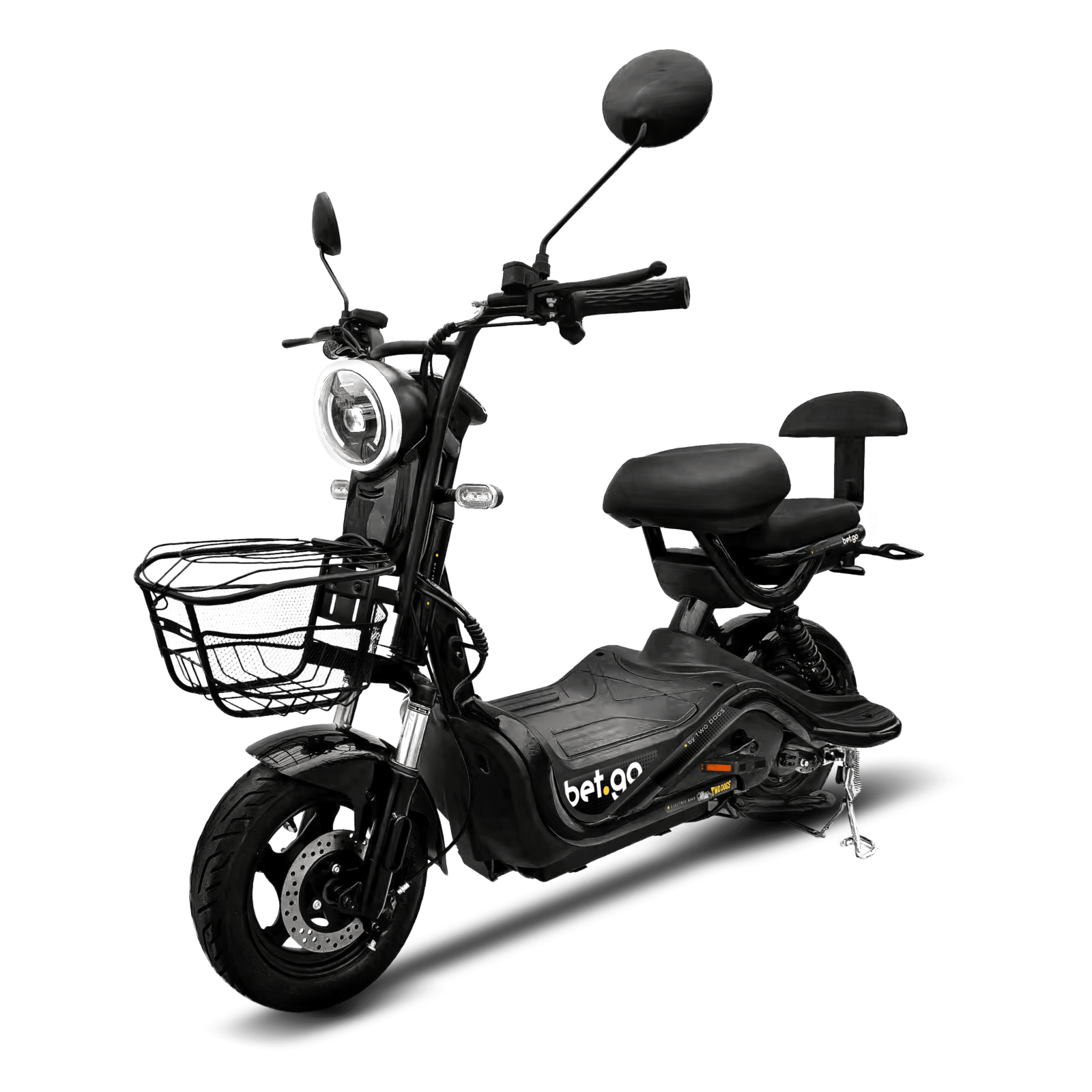 Go to work saving time and fuel, in addition to securing the week's purchases, which can be carried in the front basket. Take to the city streets with Bet.Go!
Frequently Asked Questions
TECHNICAL INFORMATION
Model: BET GO
Engine Hub: 1000w – Brushless
RPM: 500 rpm
Torque: 50 NM
Degree of inclination: 1000W: 45º
Chassis: Iron
Water and Dust Protection: IP62? Protected against splashing water and dust.
Lithium battery: 48V 20Ah
Max Speed: approx. 32 km/h
Bank: Synthetic leather
Tire: 15? – Calibrate the tires between 35 – 54 PSI
front suspension: telescopic
Rear Suspension: double cushioned
Brakes: Hydraulic rear disc, mechanical front and engine cut
Charging time: 6 – 8 hours
Loader: 110v/220v
Autonomy: Up to 50 km under ideal conditions*
*Ideal conditions: Flat terrain, without vibrations, downwind, with a pilot weighing up to 90 kg, in economy mode and in mild weather.
Battery capacity: 150 kg
Weight: 40.4 kg
Size: 149 cm X 63.5 cm X 101 cm
Two Dogs Warranty: 12 Months Against Manufacturing Defects *Except Battery
Battery Warranty: 3 months
*Regulamentação:De acordo com a Resolução 996 do Contran, este veículo é classificado como autopropelido e dispensa emplacamento e uso de CNH. Ele pode ser utilizado em ciclovias, ciclofaixas e vias com velocidade máxima de até 40km/h. E calçadas até 06km/h