ALWAYS CALIBRATE THE HOVER SHOES / ELECTRIC SKATES BEFORE PUTTING ON THE GO KART!
Assemble the Go Kart, and make sure the Hover shoes are turned off.
Take one of the Shoes first, and leaving out the side where the ON/OFF button is located.
Pass the velcro strap first over one of the Go Kart inserts and close the velcro, then pass the strap around the side of the Hover shoes, attaching it to the other insert on the Go Kart.
Then pass the strap around the other side of the Hover Shoes and finally pass it in the first fitting of the Go Kart closing the velcro in a very firm and tight way.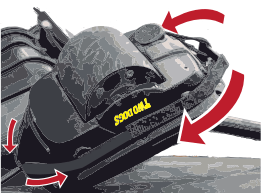 STAY TUNED #
The straps with Velcro are well tensioned for the good use of the product, but for this reason, great care must be taken when removing or putting on the straps, to avoid any accident.
As the straps are fastened with high tension, when you are no longer going to walk on the product, keep them loose so as not to damage them.