Versatility in a single bike
Urban spaces are increasingly disputed and finding a place for you becomes a great challenge. Folding bikes are serving to break the branch of those who need to move.
Bringing a unique and innovative design, Pliage together with the TwoDogs Electric KIT make your locomotion fast, sustainable and cheaper. Get to your appointments quickly without having to worry about sweating or the city traffic, in addition to having an improved quality of life.
All about the bike + Electric KIT
The Pliage bike features a folding carbon steel frame with locks, which can take less than 1 minute to fold or unfold, in addition to having a straight handlebar and grips with a hand rest. The rims are given a touch of resistance and lightness, as they are made of double aluminum foil.
You also have greater precision and safety in braking, with disc brakes in the front and rear, which is equipped with a 7-speed Shimano Rapid-Fire exchange system, allowing fast and smooth exchanges, both for beginners and for experts, taking you to pedal further.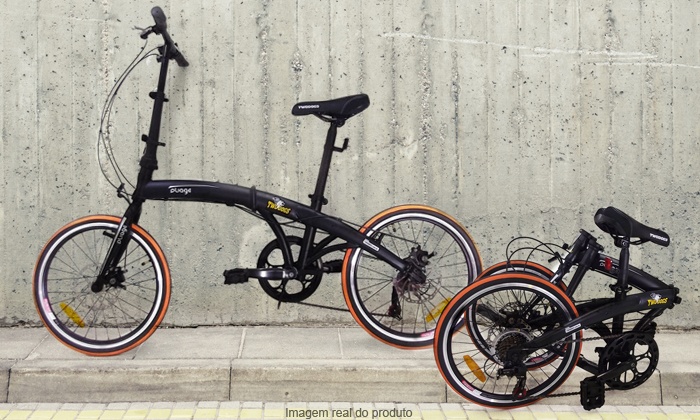 The Electric Kit, on the other hand, guarantees an upgrade in your Pliage without losing the already known elegance and practicality. It also accompanies brake levers with the OFF SYSTEM, which serves to turn off the engine when activating the brakes, preventing wear.
The electrical kit comes with a waterproof, low-noise, excellent-torque motor. The battery has great quality, delivering energy efficiency, without weighing or addicting.
The list of differentials you can find in our Virtual store. Visit there and have a good trip!!