After the release of the pre-launch campaign, many people were curious and signed up to find out what it means to be a 1TP5Userdroid.
And the good news is that, with the launch of the full line of its new electric scooters, Two Dogs has finally revealed what the Droid is all about! ?
Regardless of your priority, models Droid and Mini Droid they are versatile equipment to use in your day to day life, in addition to providing hours of leisure and fun with the family. And so, are you ready to meet them? ?
Droid
The Droid electric scooter is perfect for everyday use! Even more so for those who want to escape the routine and gain time away from traffic. It is a national product that has five international seals of security and IPX4 protection.
In addition, this model also has an energy recovery system, the same used in Formula 1 cars. In other words, it is capable of recharging the battery from braking, which provides more autonomy to the user.
Finally, the Droid is light and practical for your day to day use, it has tubeless tires (which don't puncture); disc brake system; connectivity via smart app; Lithium battery and 350w motor.
But the benefits don't stop there! Check the full technical sheet and watch the video below to learn more about this product ?
Mini Droid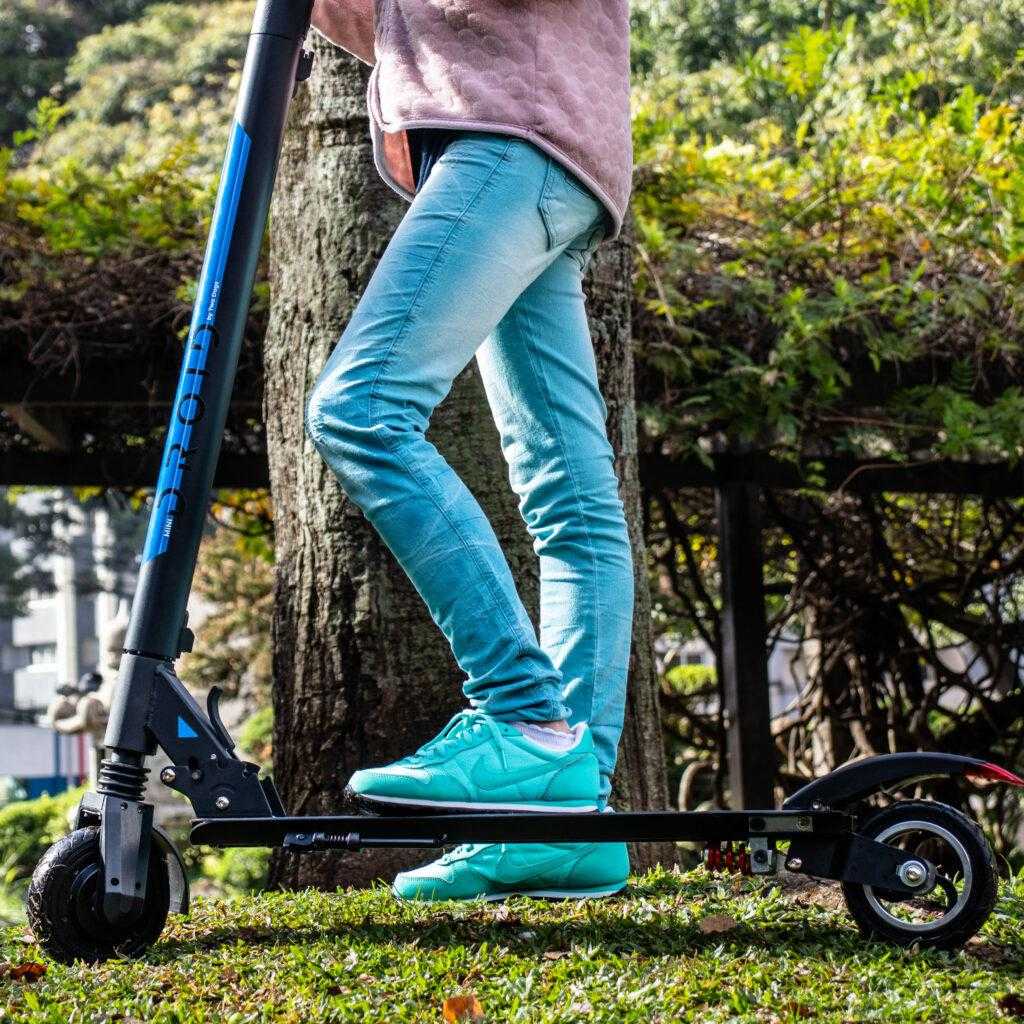 We know that fun has no age, so the DROID Line brings products for the whole family. In this way, parents and children can enjoy good moments of leisure and mobility with the Mini Droid.
If you've already been surprised by all the qualities of the Droid, know that the Mini Droid is not far behind. Because, in addition to being a super safe option for children, it is also a guarantee of fun.
In this mini version, the electric scooter has front and rear shock absorbers, non-slip deck, LED headlight, taillight, water resistance and cell phone charger. In addition, the model also has a smart application system. From it, it is possible to control the initial acceleration mode, headlights and piloting mode, among other exclusive features of the equipment.
Just take a look at the technical sheet and check out this video too:
---
Both the Droid and Mini Droid models have a one-year warranty, in addition to technical support, if necessary. And the best thing is that both are foldable, which makes them easy to transport.
Two Dogs releases arrived to transform your routine and your way of having fun. So, are you prepared for the fun and mobility that these electric scooter models can offer you?
To guarantee your or to have this product in your store, visit our website!
Read too: