In a healthy way, thousands of child prodigies adhere to the trend of participating in some form of sport. Practice should always be done in a balanced and supervised way, remembering that sport is synonymous with fun, not obligation.
Starting between four and six years of age, the practice can offer several benefits, such as the development of new friendships, physical and mental care, control of situations and the creation of good habits.
child prodigies
And in the special TwoDogs de Dias das Crianças, we're going to show you 5 kids who found a passion for life in sport!!
Pamella Mel (SURF)
He started surfing when he was only six years old and since then he has become a source of pride for his family, especially for his father, who is also a surfer!
A member of the Gabriel Medina Institute team, he started participating in surf events with the help of his family, friends and acquaintances.
Pâmella has competed in more than 90 championships and has won important titles. She is world champion and also recognized as the youngest surfer in Brazil. The surfer wants to be an inspiration to other girls and women who want to surf to compete, get a better quality of life or just have fun.
awards
Championships played: 94
Podiums conquered: 104
Titles in 1st place: 31
Isadora Pacheco (Skateboard)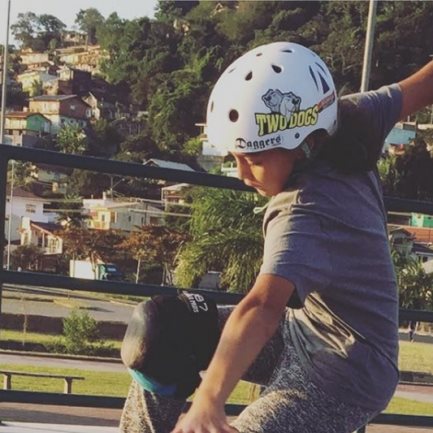 Brazilian bet on women's skateboarding for the 2020 Olympics, the Santa Catarina native discovered her passion for skateboarding at just five years old.
Always in a good mood, the girl is a great reference for having jaw-dropping achievements. She is the current leader of the 2016 women's ranking.
With an enviable curriculum, Isadora placed sixth in a competition in California, the Vans Girls Combi Pool, in the category up to 14 years old.
We already did an interview with Isa and you can check it out here!!
awards
– Brazilian female champion. 2016 park and bowl sports
- Brazilian female champion. bowl and banks kids 2014
-5. Brazilian women's 1st place in bowl and banks 2014
João Victor (HandBike)
Known as João na Handbike, he is an example of overcoming challenges in the sport, being one of the only young athletes in this category.
Born with a disease called myelomeningocele, a disease that affects the proper development of the spine, but that did not stop João from falling in love with sports, essentially cycling.
João started practicing on Handbike in November 2016, with only 12 years old. Not being old enough to participate in championships, he participates in races and half marathons with distances from 5 to 21kms!!
Yan Sondahl
The boy's talent and skills with the board have been monitored and compared with great surfers.
At just 12 years old, Yan Sondahl from Santa Catarina was already a big fan of skateboarding. Because he had no clues in his city, he ended up stopping his training.
From then on, Yan fell in love with the water, and soon after, with surfing. His parents saw his talent and began to follow the little athlete.
He conquered his space in this world, making great friends like Gabriel Medina and even the singer Jack Johnson. Yan dreams of becoming world surfing champion? and by the looks of it, it won't take long with so much talent.
His main activities are present on his personal or father's Instagram. The boy has a program on the WooHoo channel, where he tells all his adventures, whether at sea or on land. Check it out!!