As everyone should know, the snowboard é um esporte radical praticado na neve e faz parte da família do skate e do surf, já que consiste em equilibrar-se sobre uma prancha.
O mais interessante é que a prática desse esporte nasceu quase por acaso, quando lá em 1966 um cara engenheiro chamado Sherman Popper inventou um brinquedo para sua filha deslizar na neve.
A invenção consistia em unir duas madeiras com tiras de couro e travas de pés juntamente com uma corda presa na frente para se segurar.
Mais pra frente essa invenção foi patenteada e comercializada com o nome de Snurfer.
A prática do Snowboard ganhou força nos anos de 1990 com o aumento de pessoas e de campeonatos ao redor do mundo.
snowboard
Nessa época, a procura por pranchas e equipamentos ficou cada vez maior. Esse movimento deu início a um novo e competitivo mercado.
A corrida para ver quem lançaria os melhores produtos disparou! O lado positivo disso tudo é que os avanços tecnológicos trouxeram modernização significativa para quem praticava o Snowboard.
Com a tecnologia a todo vapor, foi em 1998 que o Snowboard foi registrado como um esporte olímpico. Sua primeira edição nos Jogos Olímpicos de Inverno de Nagano, situado no Japão.
A partir dos jogos, o fenômeno nas famosas estâncias atingiu seu ápice, tanto para quem praticava por lazer quanto para quem desejava se tornar profissional.
A evolução das pranchas nos dizem tudo!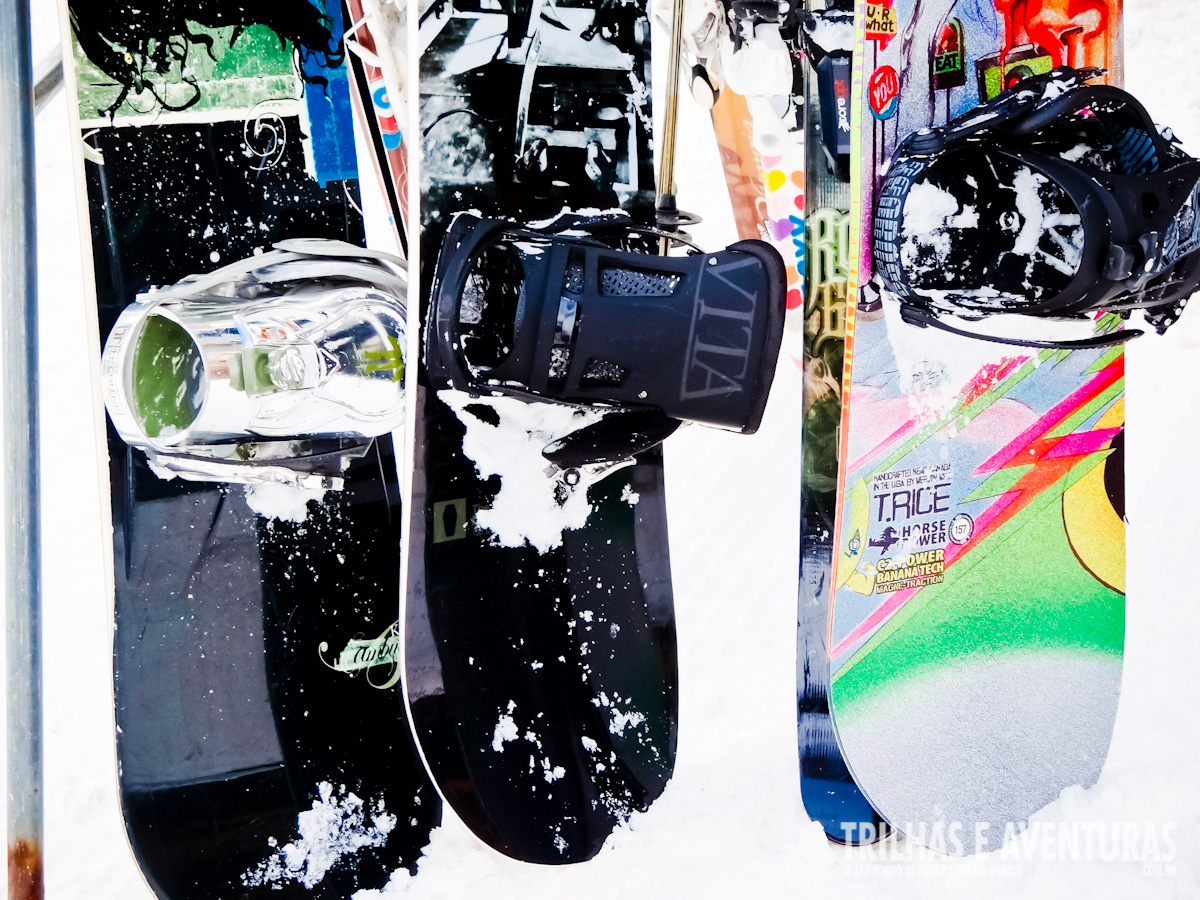 Por mais que a prancha seja o principal instrumento, os acessórios e roupas não podem ficar de fora de jeito nenhum.
Em alguns lugares do mundo, a sensação térmica pode chegar a -55ºC. Segurança contra o frio e também contra possíveis lesões são fundamentais, não é mesmo?
Clothes
Separamos três dicas importantes sobre vestimentas para quem está planejando encarar o Snowboard:
Não é uma questão de escolha. Você terá que usar uma vestimenta adequada. Aquecimento térmico, que seja resistente a quedas e a água e que te traga mobilidade para realizar as manobras.
Sabe aquela famosa segunda pele? Você precisará muito dela para se aquecer e se proteger.
Use luvas/meias impermeáveis, tocas e óculos de proteção para aguentar os impactos, a temperatura baixíssima e quaisquer acidentes. Proteja-se sempre!
Certifique-se que as botas e os encaixes na prancha estão nada mais do que perfeitos. É muito importante que você se certifique!
Isso porque cada pessoa possui um tipo de pisada e tamanho. Se você cair na besteira de comprá-las sem o total conforto e precisão, pode acabar gerando um problema de estabilidade na hora de realizar o esporte.
Falando um pouco sobre as competições e estilos, atualmente são avaliados três modalidades: Half Pipe, Cross and Big Air.
Half Pipe: Caracterizado por manobras radicais. Em um competição, quem realizar manobras mais difíceis, com precisão e em um determinado tempo, vence.
Cross: Velocidade! Para quem deseja competir nessa modalidade, é preciso descer a montanha em um menor tempo possível.
Big Air: In this modality, the competitor needs to perform maneuvers in the air and go down the ramp with great speed.